Hevy
Information
Born:

c. 32 BBY

Height:

1.83 meters

Hair Color:

black

Eye Color:

brown

Unit:
Main Weapon:

Hevy was a clone trooper who started off as a cadet in Domino Squad. After having difficulties passing their final exam, the Domino Squad did eventually pass their final exam after retaking it and was stationed at the Rishi Moon outpost under Segeant O'Niner's command. Hevy received his name due to him being a heavy weapons specialist. He sacrificed himself to save his squad when he manually detonated a bomb that was set to destroy the listening post.
Armor and Equipment
Edit
Hevy wore Phase I armor which was originally very shiny. However, after serving on the Rishi moon, it became dented and smeared with dirt.
Hevy used a Z-6 rotary blaster cannon in both combat and training. However, he carried a single DC-17 hand blaster as a sidearm when not in battle.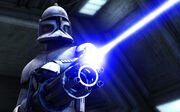 Ad blocker interference detected!
Wikia is a free-to-use site that makes money from advertising. We have a modified experience for viewers using ad blockers

Wikia is not accessible if you've made further modifications. Remove the custom ad blocker rule(s) and the page will load as expected.